Author: Lt. Alan Piombo
Date: March 30, 2017 9:12 AM

"Doughnuts with Diana": a Coffee with a Cop Event
The San Rafael Police Department will be hosting its inaugural "Coffee with a Cop" event on Thursday, April 6, 2017, from 9:00 a.m. to 11:00 a.m. The event, dubbed "Doughnuts with Diana", will be held at Johnny Doughnuts, 1617 Fourth Street, San Rafael, and will provide an opportunity for community members to meet with Chief Diana Bishop and additional police department staff.
This is an open invitation for the community to engage the San Rafael Police Department in an informal setting to ask questions and provide direct feedback on what we are doing well and what things we can improve upon.
Coffee with a Cop Background:
Coffee with A Cop was launched in Hawthorne, California in 2011, by members of the Hawthorne Police Department who were looking for ways to interact more successfully with the citizens they served each day.
Community policing has long been considered a framework for establishing trust between the community and the police. However, over time the character and composition of our nation's communities have changed due to shifting demographics, more commuters, and the introduction of different communication methods such as websites and social media.
In less than five years, Coffee with a Cop events have been hosted in all 50 states and is one of the most successful community-oriented policing programs across the country. The program has also expanded to outside the Unites States to Canada, Europe, Australia, and Africa. The key to Coffee with a Cop's growing success is that it opens the door for interactions outside of the crisis situations that typically bring law enforcement officers and community members together.
Please contact the San Rafael Police Department at 415-485-3000 or cops@srpd.org for additional information.
Click here to Download PDF Flyer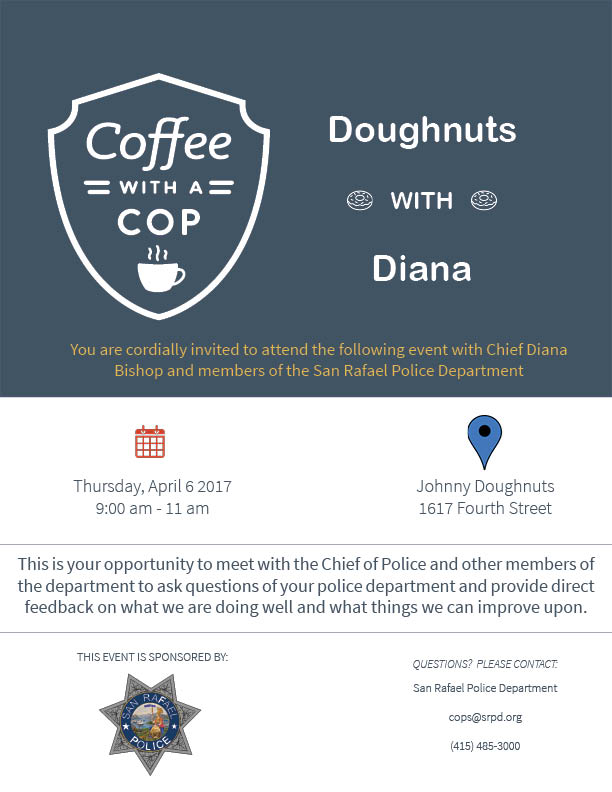 # # #
Last Modified: March 30, 2017 1:00 EDT (by Holm)