COMMUNITY POLICE ACADEMY
Haga clic aquí para verison español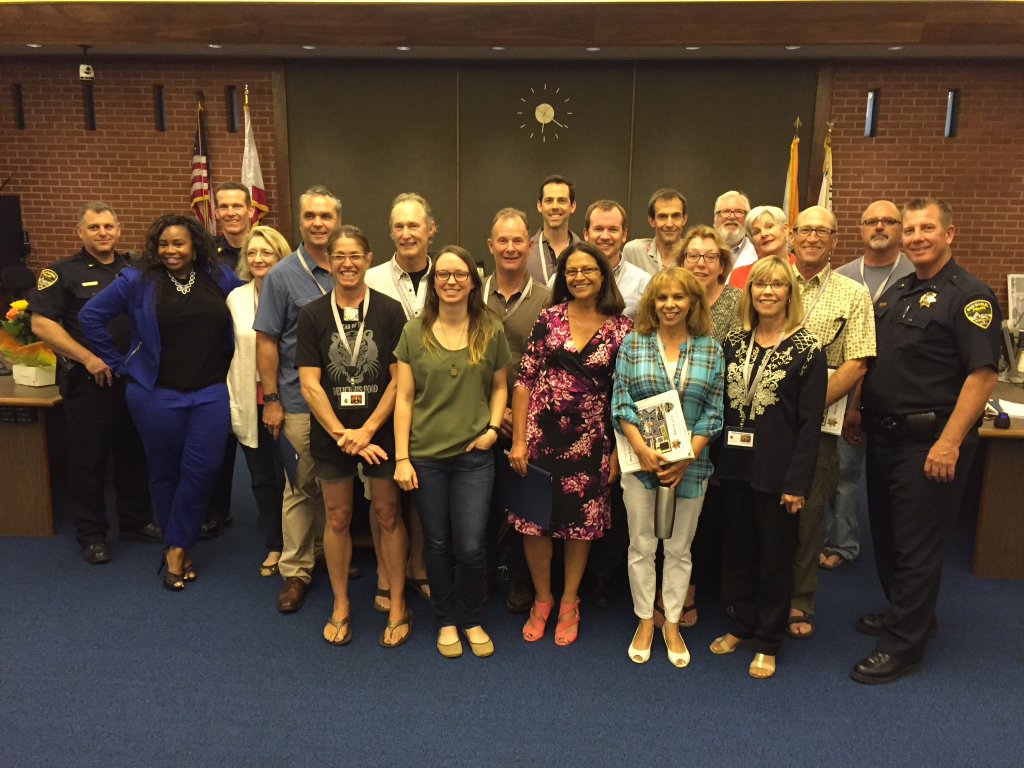 The Community Police Academy provides community members with an inside look at local law enforcement. During academy training, students will be introduced to a wide range of topics. The course is designed to provide residents with an overview of the Police Department's function and operational procedures. During the Academy, students will have an opportunity to ride in a marked patrol car, and ride on the patrol boat.
Academy classes are taught by civilian and sworn police personnel of the San Rafael Police Department. Participants will meet the Chief of Police, and many members of the department.
The San Rafael Police Department offers two Academy sessions during the year. Classes are held on Wednesday evenings from 6:00 to 9:00 p.m. Attendance is not mandatory, however it is highly encouraged. If you miss a class session, you will be given an opportunity to attend that session in our next, upcoming class. We welcome you to this opportunity to share an insight to the activity and issues within our community, and the complexity of law enforcement demands to satisfy those issues.
What are the requirements?
There is a minimum age requirement of 18. There is no maximum age restriction.
Applicants should live or work in San Rafael.
Applicants must pass a criminal background check.
Does this course prepare me to become a police officer?
No. The intent is not to train residents to become police officers. This is an informational course to teach you about the different aspects of the police department.
La Academia de Policía para residentes
La Academia de Policía para residentes ofrece a los miembros de la comunidad una mirada interna a las autoridades locales. Durante el entrenamiento en la academia, los estudiantes serán introducidos a una amplia gama de temas. El curso está diseñado para proporcionar a los residentes una visión general de la función y los procedimientos operativos del Departamento de Policía. Durante la Academia, los estudiantes tendrán la oportunidad de montar en un carro de patrulla y montar en el barco de patrulla.

Las clases de academia son enseñadas por personal civil y jurado del Departamento de Policía de San Rafael. Los participantes conocerán al Jefe de Policía, y a muchos miembros del departamento.
El Departamento de Policía de San Rafael ofrece dos clases de la Academia durante el año. Las clases se llevan a cabo los miércoles por la noche de 6:00pm a 9:00p.m. La presencia no es obligatoria, sin embargo, es muy recomendada. Si no se presenta a una sesión de clase, se le dará la oportunidad para que se presente a otra sesión en nuestra próxima clase. Le damos a usted la bienvenida a esta oportunidad para compartir una visión de la actividad y los problemas dentro de nuestra comunidad, y la complejidad de las demandas de aplicación de la ley para satisfacer esas cuestiones. Por favor, haga clic aquí para aplicar para la próxima clase!
¿Hay una edad o requisito de residencia?
Hay una edad mínima de 18 años de edad. No hay restricción de edad máxima. Los aplicantes deben vivir o trabajar en la ciudad de San Rafael y pasar una verificacion criminal de antecedentes penales.
¿Me prepara este curso para convertirme en oficial de policía?
No. La intención no es entrenar a los residentes para que se conviertan en policías. Este es un curso informativo para enseñarle sobre los diferentes aspectos del departamento de policía.