DOMESTIC VIOLENCE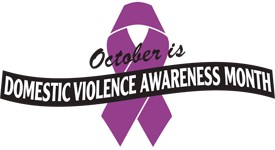 October was first declared as National Domestic Violence Awareness Month in 1987. In 1989, Congress passed Public Law 101-112 designating October as National Domestic Violence Awareness Month. Such legislation has passed every year since.
In California, approximately 40% of women experience physical partner violence in their lifetimes. The purple ribbon honors domestic violence victims and supports the growing need for awareness.
Sadly, Domestic violence is one of the most prevalent violent crimes in Marin County. The San Rafael Police Department is committed to working with the Marin County District Attorney's Office and all service providers in the community to minimize the impact on the people involved and achieve successful prosecution of these cases.
Please take a moment to remember the victims and people impacted by domestic violence in Marin County.
Resources:
The Center For Domestic Peace:
http://www.c4dp.org

Each year, Center for Domestic Peace helps thousands of individuals affected by domestic violence. The San Rafael Police Department is proud to partner with such an important resource in our community. Services provided by the Center for Domestic Peace include: Emergency shelter, transitional housing, classes for stopping violent behavior, support groups, legal systems advocacy, counseling services, and more. Learn more at http://www.c4dp.org

National Domestic Violence Hotline:
1-800-799-SAFE
http://www.thehotline.org
More Marin County Resources:
Marin County Coordinated Response to Domestic Violence and Sexual Assault Resource Directory